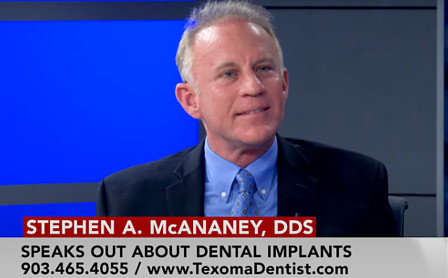 Learn More About
Our Practice
Dr. Stephen McAnaney has been providing gentle, patient-centered care for more than 20 years. He and Dr. Mike Imboden offer the very best treatment available in the United States, due to their extensive training. They are committed to offering advanced dental procedures and using leading technology.
Learn More
Welcome to Lake Texoma Dental Care & Wellness
Our purpose is to provide exceptional dental services that improve our patients' quality of life — physically, emotionally, and psychologically. To achieve this mission, Dr. Stephen McAnaney, Dr. Mike Imboden and our staff offer comprehensive dental health and wellness services for the entire family.
When you're our patient, you will receive an individualized treatment plan that's designed to meet your specific oral health needs. Our preventive, restorative, and cosmetic treatment offerings include:
Come see how Dr. McAnaney and Dr. Imboden create the most beautiful smiles of a lifetime! Contact our Denison dental office to schedule an appointment today!

Lake Texoma Dental Care & Wellness has been proudly serving Denison, Sherman, Gainesville, Van Alstyne, and Bonham, Texas as well as the Ardmore and Durant areas of Southern Oklahoma, for more than 25 years! Come join our family of patients!