We recognize that all our patients are unique and deserve to receive dental care that reflects their individual needs. Our experienced and talented dental team is committed to working with you and your family to create a comfortable, stress-free, and rewarding dental experience every time you visit our practice.
We are pleased to welcome you and your family, and we look forward to working with you.
---
Jamye Lott
Registered Dental Hygienist
Experience
Jamye's career began in Grand Prairie, Texas working with a group of three great dentists who gave her a learning experience of 22 years. The most important thing she learned was the value of the quality, care, and attention each individual deserves. She takes those responsibilities and lessons very seriously.
Philosophy of Care
With the advanced new technology in today's world, Jamye believes the most updated treatment and procedures are in the best interest of each individual patient. She does her best to provide each person with all the treatments available, and making sure they are properly informed on all their options. Her goal is to see each and every person receive instruction on oral health education for optimum dental health and the overall wellness.
Family and Interests
Jamye grew up and graduated from high school in Alief. Her family moved to Denison in 2006. She and her husband Ernie have been married for 25 years and have three great kids: Tyler, Tanner, and Karyssa. Tyler attends SOSU majoring in business admininstration/ management and plans to graduate in 2013. Tanner started the nursing program at Murray State in the fall of 2012. Karyssa also started her nursing program at Grayson County Junior College in the fall of 2012. Jamye also has two dogs, Sabrina and Dixie. She and her husband spend free time with family and friends.
Community Service
Grand Prairie Boys Baseball volunteer, supporter, and fundraiser
Encore Dance Studio volunteer, supporter, and fundraiser
Ultimate Dance Studio volunteer, supporter, and fundraiser
Grand Prairie Youth Soccer Association supporter and fundraiser
Grand Prairie School PTA
Denison High School Booster Club
Denison Little League
Denison School PTA
Kristina's Dance Studio in Sherman
Memberships
Texas State Board of Dental Examiners
Texas Dental Association
Texas Dental Hygienists' Association
Academic Achievements
Graduate of Midwestern State University, degree in dental hygiene, advanced hygiene
---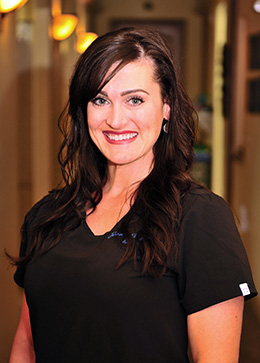 Jodi Bates
Registered Dental Hygienist
Experience
I have been a dental hygienist in both general and pediatric dental offices for more than 10 years.
Philosophy of Care
I believe in treating all of my patients the way I would want to be treated: with compassion, respect, honesty, and integrity. My experience has helped me to learn that each individual has different needs and goals for themselves, and it is my job and honor to help them accomplish those needs and goals. At the end of the day, what is most fulfilling to me is that I have helped my patients not only with their dental care, but with their overall health as well.
Family and Interests
I moved to Denison in the summer of 2013. My husband Isaac works for the Grayson County Sheriff's Office. We have four wonderful and active children. Our oldest son, J.T., graduated from Denison High School in 2015, and is currently attending MOS training in Florida for the U.S. Marine Corps. Our oldest daughter, Jordan, is due to graduate from Denison High School in 2016, and is a DHS Stingerette. Our younger daughter, Jaidan, is in sixth grade, and enjoys playing the clarinet, and is on the Lady Jackets Elite Basketball team. Our youngest son, Jasper, is in kindergarten and loves to play baseball. We have two horses, Doc and Oakley; two dogs, Gus and Bohannon; and one cat, Punky. I enjoy crafts, Pinterest projects, and working out. We spend lots of time together as a family, remodeling our house and doing outdoor activities like hiking and camping.
Community Service
Anna Youth Sports Association (basketball, football, cheerleading) – volunteer and fundraiser
Soccer (coaching) – volunteer and fundraiser
Anna Elementary & Middle School Student Council – volunteer
Anna Band – volunteer and fundraiser
First Baptist Church in Melissa – community service volunteer
Community Sealant Day (Celina, Prosper, and Gunter) - volunteer
Memberships
American Dental Hygienists' Association
Academic Achievements
I graduated from Collin County College summa cum laude with an Associate Degree of Applied Science in dental hygiene; Sigma Phi Alpha (National Dental Hygiene Honor Society), and Fones Excellence Award ( for Academic & Clinical Excellence)